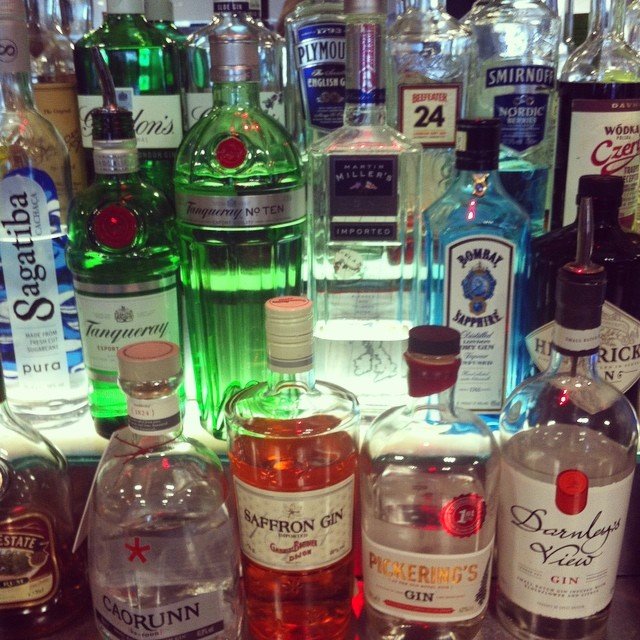 Image Source: Iconosquare
As the weather heats up you may want to grab an ice cold drink. If a whiskey doesn't sound refreshing, consider opening up your pallet to gin. Gin is a distilled spirit made with Juniper berries. It tastes clean and dry. It has a medicinal flavor. Gin is cool, sophisticated, and refreshing.There are many ways to enjoy gin, even if you don't like tonic. Gin also pairs well with citrus, mint, and cucumber. Invest in a good bottle and try a few different gin cocktails. A Tom Collins on a hot day is very refreshing, its like an alcoholic lemon soda. A gimlet is another refreshing drink. But if you to be like Bond, have a Martini.
Gimlet-
2 oz of Gin 
1 oz of lime juice 
.5 oz of simple syrup (equal parts water and sugar)
Shake or stir. Serve over fresh ice or in a chilled cocktail glass. Garnish with a lime wedge.
Tom Collins-
2 oz of Gin
1 oz of lemon juice
.5 oz simple syrup
Stir together in a tall glass add ice, and fill with soda water. Garnish with a lemon.
Gin Martini
2 oz of Gin
.5 oz of Dry Vermouth
Shake or Stir with ice. Strain into a chilled Martini glass. Garnish with a lemon twist (peel) or olive. (Make it dirty by adding .25 oz olive juice before shaking.)