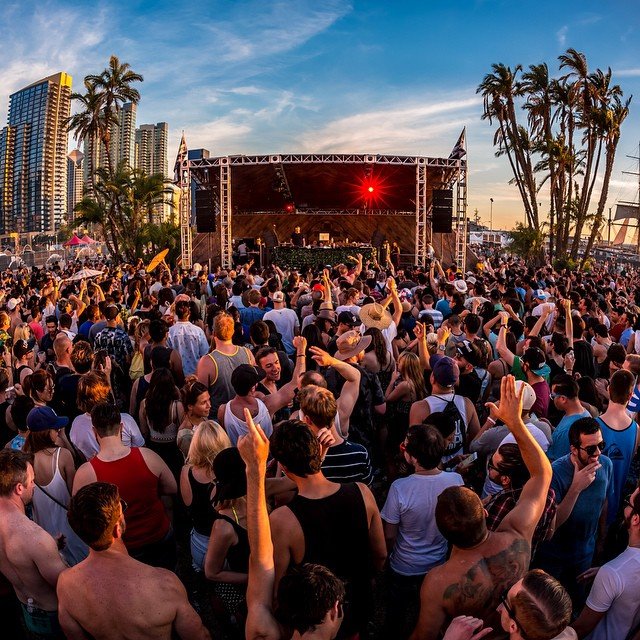 Source: Iconosquare
The CRSSD Music and Dance Festival opened in San Diego with a crowd of 15,000. Many enjoyed dancing and listening to music at the  Waterfront Park. A combination of underground and EDM the festival is produced by GoldenVoice and firm LED.  Some of the acts featured were Hot Natured, DJ Harvey, and Damian Lazarus. The festival strives to let underground acts perform for mainstream audiences.
When fans fill the  Water Front Park it resembles an open air party and the underground acts like Thomas Jack and Klangkarussell bring a sellout crowd. The festival has run since 1999. The festival benefited from GoldenVoices experience in running other festival before they organized this one. The huge main stage and dozens of food and drink tents make this an exciting event those 21 and up. This  festival is  located on 12 acres of land.It easy for the customers to stroll between the three main stages on site, dance, or splash in the pools to cool off.
The crowd has many bare chested men and women wearing bikinis at this event. The sparkling water of the San Diego Bay gives this festival a great location. On stage festival goers enjoy acts like Chromeo, Empire of the Sun, Jamie Jones/Lee Foss, and other acts. One of the highlights of Saturday night was a group called The Ancient Moons dressed in black robes. They mixed live guitar and keyboard music to produce a psychedelic disco type music for fans. The lineups through Sunday kept the fans rocking until the very end of the festival.
Festival goers often wear lightweight clothing like prints, bathing suits and comfortable shoes that they can walk around and dance in.  Festival goers enjoy food vendors with beer, and all types of gourmet foods from sushi to Mexican when attending. With over 15,000 in attendance this festival was a big success.